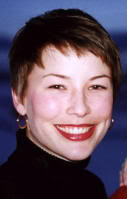 Sara Elizabeth Low, 28, was a flight attendant who perished aboard American Airlines Flight 11 on September 11, 2001.
American Airlines was the first carrier to reach out to Dr. Carolyn Coarsey when her work was published in 1992, and the first to establish formal training on how to best provide post-accident assistance. In recognition of the enormous role that the company's CARE Team volunteers played in supporting 9/11 families, the Sara Low Charitable Trust Fund made a generous donation to the Foundation, enabling us to create the pin.
​We are grateful for the chance to honor and perpetuate Sara's memory in our work.
The Sara Low Pin is in the form of the Foundation's official logo. The angel wing represents the eternal connection between families and their lost loved ones, and between all who share in a tragedy; the heart is the universal symbol for compassion and empathy.
​Today, the Sara Low Pin also serves as a sign of unity among all Care Team responders worldwide who serve others in times of crisis.